Why Siobhan O'Toole can inspire you!
LadySKO is really code for a website siobhanotoole.com - no one can spell Siobhan O'Toole so LadySKO it is.
LadySKO is a consulting business that provides:
Lean Program Management/Delivery Mgmt Expertise - read more here

Mentoring for building confidence and inspiration for your career - read more here

Thought Leadership in Women in Technology, AI, and building a portfolio career - all coming soon to my Blog
Get in touch with Siobhan
Warndu is an Australian Native Food business that has the mission to inspire curiosity into the native food industry. Where possible we source our ingredients from Aboriginal Wild Harvesters promoting
Siobhan is the co-owner of Warndu. In partnership with Rebecca Sullivan and Damien Coulthard.
Siobhan lead the Qantas Loyalties latest venture - Qantas Money as an independent consultant.
Siobhan was a key critical success factor in the release of Qantas premier in June 2017.

Siobhan ensured Qantas and Citi delivery teams were connected, empowered, and focused on taking incremental steps towards the larger vision.
IKARA is an IT Performance Optimisation Startup. In 2015, Siobhan worked with the IKARA team during their inception to help define and refine the MVP approach and Go To Market.
Siobhan consults to IKARA on enterprise technology adoption, data driven insights, cloud operating models and Agile development.
Siobhan joined AMP to help advocate devops and shape a cloud adoption strategy.
It was at AMP that Siobhan developed a love for Human Centred design thinking and focused on becoming a change agent for companies who needed to break down the middle mgmt reliance on consultancy companies year to year "strategies".
Clogheels was Siobhan's first side hustle. Born out of a love for shoes and a funny departure gift from the Netherlands, Clogheels was a pop up business in the Netherlands in 2013.

This was my first experience with sourcing and building an ecommerce website (in two languages). It was a collaborative effort with a lot of help from friends.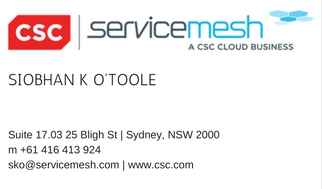 ServiceMesh was a tech startup that was bought by CSC now DXC.
Siobhan was the cloud transformation lead providing a consultative approach on business transformation utilising the Agility Cloud Platform. She expertly co-ordinates, changes and guides senior executives and their organisations to deliver on the promise of a cloud operating model.
Siobhan was asked to be the Service Introduction Lead for the ANZ GSD Project a 100M investment within BP's Refining and Marketing Segment to implement Supply & Sales force transformation.

Siobhan moved to Accenture Netherlands in 2006. She joined the Management consulting practise in Customer Relationship Management.
Clients included KPN, Nuon, 1% Club, Fortis Bank and BP.
Siobhan began working for Anderson Consulting as it transitioned to Accenture in 2001. She joined the Resources Group focused on Full Market Contestability.
Clients included: Origin Energy, Integral Energy, CitiPower, Port Waratah Coal Services.